Introduction and opening notes
Among the television shows featured in the background during Peter's introduction are images of Gilligan's Island, Lassie, I Dream of Jeannie, The Dick Van Dyke Show, Star Trek, I Love Lucy, The Jeffersons, The Twilight Zone, Cheers, The Lone Ranger, M*A*S*H, Happy Days, Good Times, The Brady Bunch, Three's Company, Mork & Mindy and The Munsters.

The Twilight Zone episode is specifically that of "The Eye of the Beholder". The I Love Lucy episode is titled "Job Switching".

In "celebrating" sixty years on the air, Peter diminishes the impact The Simpsons have had on Sunday night television. This episode aired one week before The Simpsons would become the longest-running prime-time show in history in terms of episodes broadcast.
According to Peter's history of the show, Family Guy began as a recurring sketch and had survived nineteen cancellations, two assassination attempts and some ribbings by South Park.
One of the tourists passing though refers to the show as "The Family Guy", a meta joke about the correct name of the show which was highlighted in "Boopa-Dee Bappa-Dee".
November 11, 1956 "Pilot"
The "original airdate" as a featured show is set at November 11th, 1956.
Chris is stated to be the eldest child as opposed to Meg.
Brian's "real" name is Doodles Weaver, which is also the name of a musical comedian who was known for his work with bandleader Spike Jones.[1]
A radio advertisement for Fred Trump apartments is featured for people that don't want to live next to blacks. Donald Trump's father Fred had a numerous accusations of racism levied against him.[2]
Donna is shocked to find out that Elvis Presley is white, which came at a time when the singer was known for his R&B music typically associated with African American artists.[3]
August 17, 1969
During the "1969 Theme From "Family Guy"", Peter attributes Stewie's speech to a wizard, associating it with a trope used to explain a lack of continuity as "a wizard did it."[4]
Chris complains that he won't get to see Sha Na Na at Woodstock. Sha Na Na is a 1950s-style band that, although anachronistic, preceded Jimi Hendrix in closing out Woodstock reportedly at the latter's request.[5]
It is hinted that Herbert's real name was Roy Mitchell. Similarly, Mike Brady uses the original actor's name of Robert Reed.
Peter's family roots lead to Asia.
Peter clicks though widely separated historical moments in television history including the moon landing (1969), The Beatles appearance on The Ed Sullivan Show (1964), the assassination of President John F. Kennedy (1963), until he finds Gilligan's Island (originally 1964-1967).
March 11, 1973
The Bruce Jenner Wheaties box did not appear until after the Olympics decathlon in 1976.[6]
The Drunken Clam Disco is significantly larger on the inside than its normal counterpart.
Entering the disco, "A Fifth of Beethoven" (1976) by Walter Murphy is heard, which was also featured in "Hell Comes to Quahog".
Creedence Clearwater Revival's "Fortunate Son" is featured in Quagmire's Vietnam flashback. Itself has become a trope of war scenes and especially associated with Vietnam.[7]
Although not heard, Quagmire also mentions "For What It's Worth" by Buffalo Springfield.
Joe claims a service injury paralyzed him since he was hit by a bus after telling the draft board he was gay.
Peter and Quagmire both transpose "Viet Cong" with Donkey Kong.
Peter mentions The Godfather Part II which was not released until 1974.
The outfit that Meg wears at the cemetery matches one that Mila Kunis wore as Jackie on That 70s Show.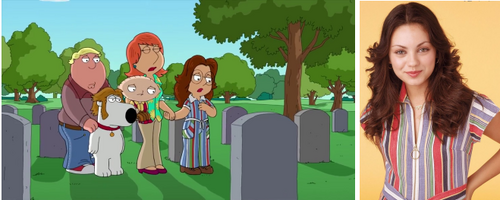 Outro and closing notes
Don Knotts claims that Andy Griffith used to beat him up due to drinking, and Tim Conway slept with him while they worked on The Apple Dumpling Gang.
As noted in the introduction, all of the episode "dates" took place on Sunday nights.
Community content is available under
CC-BY-SA
unless otherwise noted.