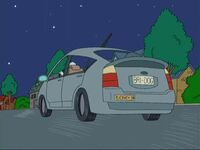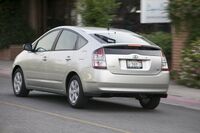 The Toyota Prius is a full hybrid electric mid-size car developed and manufactured by the Toyota Motor Corporation. It first went on sale in Japan in 1997, making it the first mass-produced hybrid vehicle. It was subsequently introduced worldwide in 2001. The Prius is sold in more than 40 countries and regions, with its largest markets being those of Japan and North America.
Brian's car has been specifically identified as a 2004 Toyota Prius in the DVD commentaries. The license plate normally reads "BRI-D0G" and it has a 'Kucinich 04' bumper sticker. In a DVD-exclusive scene in "The Former Life of Brian", Brian did change the license plate to read 'DYLANS DAD'. In its early appearances show it appears in the standard cartoonish animation, but is currently rendered in more realistic form as a CGI effect.
In the mock DVD commentary that is part of "You Can't Handle the Booth!", Peter notes that Brian actually drives a white Mercedes convertible.
In "Pawtucket Pat", Stewie discovers that it only has driver side airbags after a crash. Brian notes it was because he was dating a girl he didn't like at the time he purchased it.
Community content is available under
CC-BY-SA
unless otherwise noted.