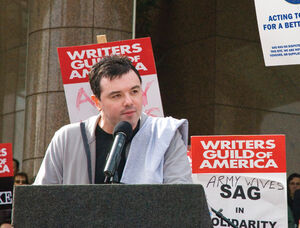 The 2007 Writers Guild of America strike by the Writers Guild of America, East (WGAE) and the Writers Guild of America, West (WGAW) took place on November 5, 2007. The WGAE and WGAW are two labor unions that represent film, television and radio writers working in the United States.
The strike was against the Alliance of Motion Picture and Television Producers (AMPTP), a trade organization that represents the interests of American film and television producers. Over 12,000 writers were affected by the strike. The strike sought increased funding for the writers in comparison to the profits of the larger studios.
Negotiators for the striking writers reached a tentative agreement on February 8, 2008, and the boards of both guilds unanimously approved the deal on February 10, 2008. At the resolution of the strike, the writers achieved a new percentage payment on the distributor's gross for digital distribution.
Effect on Family Guy
Seth MacFarlane has been quoted in an interview [1] saying that because of the strike, "Lois Kills Stewie" was the last fully produced episode he would be part of until the strike was resolved. The following two episodes: "Padre de Familia" and "Peter's Daughter" were aired when FOX decided to put the finishing touches on them and aired them as scheduled as part of November 2007 sweeps. "McStroke" was also completed before the strike was settled. An agreement was made, and episodes resumed airing with no further consequences.
Community content is available under
CC-BY-SA
unless otherwise noted.