watch 01:23
Wiki Targeted (Entertainment)
Play Sound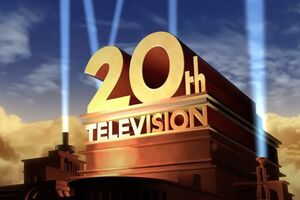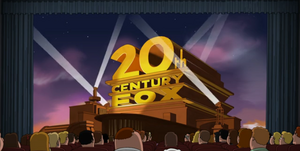 20th Television is the production company formed by the Walt Disney Company to merge it's television holdings purchased from 20th Century Fox.
The Fox Broadcasting Company (FBC), often stylized FOX, was the original home of Family Guy, The Cleveland Show and American Dad! until the latter's move to TBS.
Family Guy has shown many fictional shows that air on FOX, as well as shows that formerly aired on the network in many episodes as part of jokes or everyday life for the Griffin family.
Fox security shoots down Peter Griffin's blimp at the Super Bowl in "Death Has a Shadow".
In "Holy Crap", Francis Griffin destroys a FOX camera filming The Pope as he walks into the Vatican.
In "North by North Quahog", Peter lists all of FOX's failed shows that debuted and ended between Family Guy's cancellation and revival.
FOX's lack of successful live-action comedies is parodied when Gerardo can't think of any besides That 70's Show as a reason to come to America for in "Padre de Familia".
In "Family Gay", the horses that compete in the Quahog Derby are all named after canceled FOX shows, including 'Til Death, the horse that belonged to Peter, and The Winner, after the failed live action program created by Family Guy creator Seth MacFarlane. The show 'Til Death was canceled the season following the Family Guy broadcast.
In "FOX-y Lady", Peter pitches Handi-Quacks to then-chairman Peter Chernin to air on the network, as a way to take advantage of Lois's position as Fox News Channel anchorwoman.
In Something, Something, Something, Dark Side, FOX is criticized for giving away the marketing rights for Star Wars to George Lucas, and its stockholders for investing in a company that actually canceled what would become a hit show twice.
The company is criticized for forcing the creation of It's A Trap! in the special's opening crawl.
20th Century Fox was one of the many production studios used for the making of the first film in the double feature at Quahog Cinema in "Friends of Peter G". The film was paired with The Sound of Music, also produced by 20th Century Fox.