The title refers to the 2002-2005 television show 8 Simple Rules for Dating My Teenage Daughter starring Katey Sagal and John Ritter.
The scene in which Stewie tests his "teleportation pods" and merges with Rupert is a similar to ones used in the film versions of The Fly.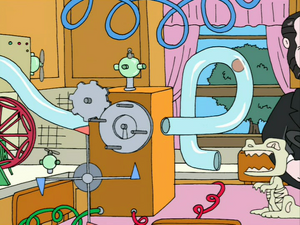 In a cutaway, Peter buys a "breakfast machine," which turns out to be a Rube Goldberg machine which shoots him. The breakfast machine itself is similar to the breakfast machine featured in the film Pee Wee's Big Adventure. The Danny Elfman music used in the scene was adapted from said film.
Kramer vs. Predator, pits Dustin Hoffman's character from Kramer vs. Kramer against a Predator in a parody of the 2004 crossover film Alien vs. Predator which pitted the Xenomorphs from the Alien film series against the Predator of the Predator series.
Stewie fantasizes Brian re-enacting the Matthew McConaughey's character David Wooderson's line in Dazed and Confused in front of the pool hall: "That's what I like about high school girls. I keep getting older, they stay the same age."
The scene in which Stewie attacks the babysitter's boyfriend is similar to one in the film Child's Play.
Lois' line "the position has been filled" is a reference to the 1993 film Mrs. Doubtfire.
Community content is available under
CC-BY-SA
unless otherwise noted.