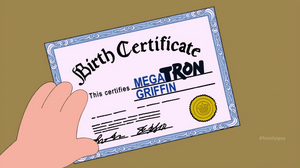 This episode marks the first time in Family Guy where animation directors are credited as writers.
Peter changes the name on Meg's birth certificate to "Megatron", even though most characters call her "Megan". It also doesn't feature Meg's middle name.

In "Inside Family Guy", the hallways of the production offices feature props from past episodes including the Megatron birth certificate.

This is the first episode to contradict Quagmire's established age of 61 as his encounter with Tracey Bellings as a youth is set in 1986. However, he is clearly an older adult by 1988 in "Meet the Quagmires".
Stewie imagines a Menstrual Cycle as a creation inspired by Dr. Seuss. Meg later rides off on just such a device.
Meg's sex tape video displays "1 views", instead of "1 view".
When Meg opens her locker, it's shown that she has a child, which she keeps locked in there.
This is the second time Brian has been shaved after "Breaking Out is Hard to Do" in which Peter sets up a cutaway poking fun at swimmer Greg Louganis.
Community content is available under
CC-BY-SA
unless otherwise noted.