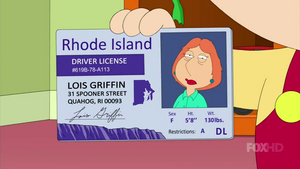 The title is a euphemism for a deep thinker.
A113 appears on Lois' license that Stewie takes to preschool in his dreams. A113 is an old animation in-joke used in several other animated movies and T.V. shows.[1]
Brian informs Glenn Close that she was very mean in her performance as Cruella De Vil in the live action version of 101 Dalmatians.
Stewie is "benched" with Phineas & Barnaby, Vern and Johnny, Fouad, Jim Kaplan, Obie and RJ.
Brian says that his mother is dead, a callback to "Road to Rhode Island" and his mother Biscuit.
Stewie claims to have never had a nightmare before. However, he had a nightmare about being kidnapped by Santa Claus in "A Very Special Family Guy Freakin' Christmas".
Although pictured as a six man group in Stewie's dream, in reality, The Dovells performed with 4-5 members at various times of their career, although several different members came and went to pursue other projects.
The line of characters outside the Griffin House after Brian tries to help Stewie get over his night terrors with Chris dressed as Frankenstein's Monster are; Seamus Levine as Mayor Adam West, Tom Tucker as Seamus, John Herbert as Tom, Ernie the Giant Chicken as Herbert, Elmer Hartman as Ernie, Consuela as Dr. Hartman, Ollie Williams as Consuela, Lois Griffin as Ollie, Glenn Quagmire as Lois, Opie as Quagmire, Angela as Opie, Carter Pewterschmidt as Angela, Tricia Takanawa as Carter, Jerome as Tricia, and Mort Goldman as Jerome.
Community content is available under
CC-BY-SA
unless otherwise noted.