Despite appearing during and in the aftermath of the fire, none of Peter's friends have any dialogue.
"The Minister's Cat" is a Victorian-era game in which participants must describe said cat with an adjective that must start with each succeeding letter of the alphabet, or with multiples of the same letter while maintaining rhythmic clapping and singing until someone breaks the rhythm.[1]
Peter's "Aw, shucks!" joke is a nod to shucking oysters.[2]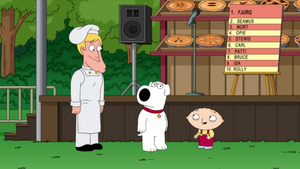 Finishing order for the pie contest:
Patti
Rolly
Community content is available under
CC-BY-SA
unless otherwise noted.