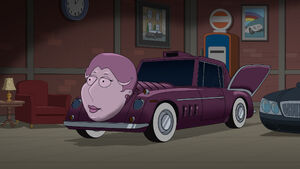 The title references the sitcom and later film Absolutely Fabulous.
Kyle Kaepernick is a parody of Colin Kaepernick, who has been ostracized by the NFL and fans over his protests of police violence by kneeling during the anthem.[1]
The Babsmobile is a parody of the Batmobile.
The pie baking contest notes that Jason Biggs is not welcome referring to the star of the film American Pie whose character had sex with an apple pie.
Peter tries to give Chris a 'Tom Brady' kiss, referring to a kiss he shared with his then-11 year-old son.[2]
Grizabella, the 'Forgotten' cat is from the musical Cats by Andrew Lloyd-Webber. She sings "Memory", one of the songs from the show.
Peter's comment to the Cats moment how about the kids not getting it but the parents hating it is a play on Marty McFly's comment on "Johnny B. Goode" in Back to the Future.
Community content is available under
CC-BY-SA
unless otherwise noted.