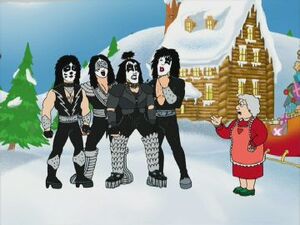 Paul Daniel "Ace" Frehley (born April 27, 1951) is an American musician best known as an original member of the rock band KISS. He took on the persona of the "Spaceman" or "Space Ace" when the band adopted costumes and theatrics. Frehley played with the group from its inception in 1973 until his departure in 1982. After leaving KISS, Frehley embarked on a solo career, which was put on hold when he rejoined Kiss in 1996 for a highly successful reunion tour. His second tenure with Kiss lasted until 2002, when he left at the conclusion of what was purported to be the band's Farewell Tour.
In "A Very Special Family Guy Freakin' Christmas", he appeared with his bandmates in Kiss Saves Santa, a Christmas special. He voiced himself.
In "Road to Europe", he performs with the band at KISSstock, a festival dedicated to the band's music. Due to a falling out with the other band members, Peter Criss and Ace Frehley would not return to do their own voices.
In "Ratings Guy", Peter makes the creators of Mad Men make Jon Hamm's character a Star Wars Jedi. KISS guitarist Ace Frehley appears and plays the Star Wars theme.
Community content is available under
CC-BY-SA
unless otherwise noted.