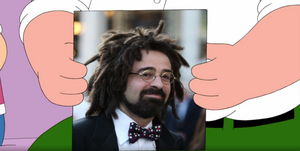 Adam Fredric Duritz (born August 1, 1964) is an American musician, songwriter, record producer, and film producer, known as the frontman for the rock band Counting Crows, of which he is a founding member.
After recalling their marriage and life in the 90s in "Peter & Lois' Wedding", Peter tell the kids about Counting Crows. He describes Adam as looking like Marc Maron had sex with a scarecrow, and gave birth to a baby made of hemp. Lois further describes him as looking like the Cowardly Lion in the suburban white high school version of The Wiz. However, Peter notes that the 'Sideshow Bob burnout' slept with many hot ladies in the 90s, including Jennifer Anison, Courtney Cox, Winona Ryder, Christina Applegate, Lara Flynn Boyle, Emmy Rossum and Mary-Louise Parker. Most of this news infuriates Chris, although he calms down after the last one, noting that she has been reported to be difficult.
Community content is available under
CC-BY-SA
unless otherwise noted.