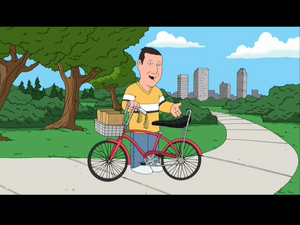 Adam Richard Sandler (born September 9, 1966) is an American actor, comedian, musician, screenwriter and film producer. He is the founder of Happy Madison Productions, a film production company that also developed the television series Rules of Engagement. After becoming a Saturday Night Live cast member, he went on to star in several Hollywood feature films that grossed over US$100 million at the box office. He is best known for his comedic roles, such as in the films, Billy Madison, Happy Gilmore, Big Daddy and Click.
His comic roles usually have him acting like an oversized child. This is parodied in "Stew-Roids" when he stars in The 35-Year-Old Bicycle Delivery Boy with a new bike.
Sandler's portrait appears in "Big Man on Hippocampus", hanging on the wall near Robin Williams' agent, Phil, when he talks with Williams.
In a fictional parody of his film Jack and Jill, Sandler stars in Ben Him & Ben Her in "Jesus, Mary & Joseph", playing male and female siblings.
Adam appears on the DVD cover to Funny People in "Brian the Closer" along with co-stars Seth Rogen and Leslie Mann, which Peter rejects and knocks to the floor.
Brian and Peter are stuck watching the DVD menu screen to That's My Boy in "Our Idiot Brian", starring Adam and Andy Samberg.
Kevin James appears in a sitcom about getting kicked out of Hollywood for eating Adam in "Scammed Yankees". Adam pokes his head through James' mouth and notes that he is inside with the pizzas.
When Brian confronts Peter for using him in "Underage Peter", Peter notes that it is what Sandler's friends do to him.
Sandler is voiced by Seth MacFarlane.
Community content is available under
CC-BY-SA
unless otherwise noted.