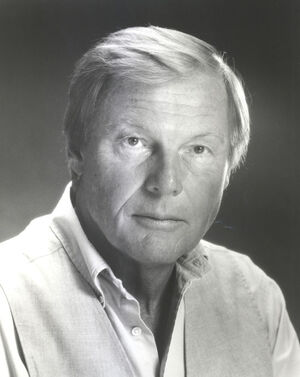 This article is about the voice actor. For the person he voices, see Mayor Adam West.
William West Anderson (September 19, 1928 - June 9, 2017), better known by the stage name Adam West, was an American actor best known for his lead role in the 1960s TV series, Batman, and the film of the same name. He was known for portraying eccentric versions of himself, as well as his voice work on animated series such as The Fairly OddParents and Family Guy.
He voices the Quahog mayor of the same name that is an eccentric version of himself.
He appears as himself in a live action scene in "Not All Dogs Go To Heaven" with fellow actor Rob Lowe. He was set to appear on Family Guy Presents: Seth & Alex's Almost Live Comedy Show, but the appearance was cut for time.
As Peter is dying in the future of "Rich Old Stewie", he sees others who have already passed on, including Adam West.
Community content is available under
CC-BY-SA
unless otherwise noted.