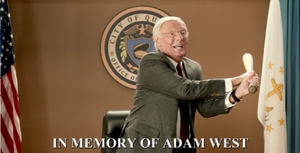 This episode is dedicated to Adam West.
West is given a '21 cat salute,' with cats fired from crossbows as he did in "Prick Up Your Ears".
The theme to Navajo Joe plays when Brian spies Quagmire's campaign posters.
When the tribute to Mayor West plays, "Right Here Waiting" by Richard Marx is heard. Clips include:
Brian says ""If not me, who? If not now, when?" This quote, with "us" instead of "me", is associated with Rabbi Hillel, but its first modern use was by George Romney in 1963.[2]
Peter says that Tosh.0 puts up photos of people all the time.
Community content is available under
CC-BY-SA
unless otherwise noted.