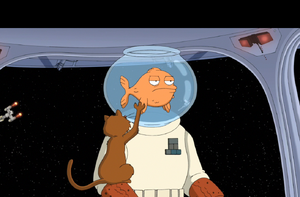 Admiral Ackbar is a fictional character in the Star Wars universe. He first appears in Star Wars Episode VI: Return of the Jedi.
In Return of the Jedi, Ackbar leads the Rebel Alliance's assault on the second Death Star above the moon of Endor. The Rebels had planned the attack based on intelligence that the battle station was not yet operational, but Ackbar realizes they have been led into a trap after its superlaser destroys a Rebel ship. He orders his forces to retreat, but regroups after the Rebel ground forces, led by Han Solo and Princess Leia, destroy the station's defensive shields. He then leads the Rebels in defeating the Empire's fleet as Lando Calrissian destroys the Death Star and, with it, the Empire.
In Something, Something, Something, Dark Side, Luke Skywalker, played by Chris Griffin, leads OnStar to believe they're talking with Ackbar.
Klaus, the human brain-transplanted goldfish from American Dad!, appears as Ackbar in It's A Trap!.
External Links
Community content is available under
CC-BY-SA
unless otherwise noted.