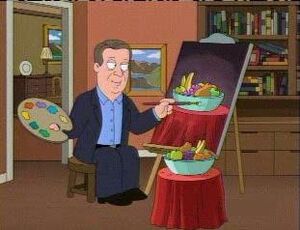 Albert Arnold "Al" Gore, Jr. (born March 31, 1948) served as the 45th Vice President of the United States from 1993 to 2001 under President Bill Clinton. He was the Democratic Party nominee for President in the 2000 United States presidential election. He is an author, businessperson, former US Senator and former journalist. In 2007, he shared the Nobel Peace Prize with the Intergovernmental Panel on Climate Change. Gore also starred in the 2006 documentary An Inconvenient Truth.
In "Mr. Griffin Goes to Washington", he goes with George W. Bush, Dick Armey, and Peter to The Oval Orifice where he confirms to Peter that he has their support in the upcoming anti-smoking bill. In this appearance he was voiced by Seth MacFarlane.
In "Meet the Quagmires", Peter creates an alternate timeline, where Al Gore is the President of the United States instead of George W. Bush, which results an Utopian world. He institutes universal health care, strict gun laws, and found Osama bin Laden hidden on the set of MADtv, and killed him.
In "FOX-y Lady", Fox News Channel reveals they have built a button that activates a machine that only Al Gore can hear, and when Gore complains, his wife Tipper doesn't believe him. In this appearance he is voiced by Ed Helms.
Al Gore narrates Titanic II in "Pawtucket Pete", in which the former iceberg has been rendered into a harmless ice cube by global warming.
Community content is available under
CC-BY-SA
unless otherwise noted.