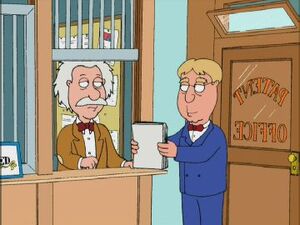 Albert Einstein (14 March 1879 – 18 April 1955) was a theoretical physicist, philosopher and author who is widely regarded as one of the most influential and best known scientists and intellectuals of all time.
In "The King Is Dead", Lois Griffin mentions the "mindless jobs" of famous creative people using Einstein as an example. He was working in the patent office when he stole Smith's Theory of Relativity. Later in the same episode, he attacks God for Shrinky-Dinks.
Tom Tucker shows a clip he taped from Entertainment Tonight of Liam Neeson's latest film of Einstein as a killer out for vengeance in "Fighting Irish".
The advanced mathematics taught at Corridors, an exclusive pre-school in "Take a Letter", includes Einstein's Theory of Relativity.
Community content is available under
CC-BY-SA
unless otherwise noted.