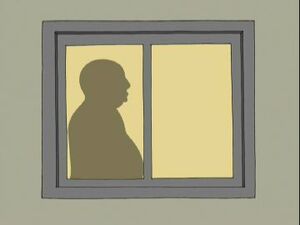 Sir Alfred Joseph Hitchcock, KBE (13 August 1899 – 29 April 1980) was an English filmmaker and producer. He pioneered many techniques in the suspense and psychological thriller genres. After a successful career in his native United Kingdom in both silent films and early talkies, Hitchcock moved to Hollywood. In 1956 he became an American citizen while remaining a British subject. Through his cameo appearances in his own films, interviews, film trailers, and the television program Alfred Hitchcock Presents, he became a cultural icon.
His film North by Northwest is the basis for "North by North Quahog" and his film Dial M For Murder is the basis for the title to "Dial Meg for Murder".
In "The Perfect Castaway", Peter and Lois Griffin are seen kissing through a window in silhouette on the window blind, and then sinking onto the bed, angering Brian, the victim of the affair. They are replaced by Hitchcock's very recognizable rotund silhouette, as seen in the opening of Alfred Hitchcock Presents, accompanied by his signature tune.
After he breaks his leg in "Petey IV", Brian ends up stuck in his apartment in "Crimes and Meg's Demeanor" and takes up spying on his neighbors in a plot taken from Hitchcock's film Rear Window.
Community content is available under
CC-BY-SA
unless otherwise noted.