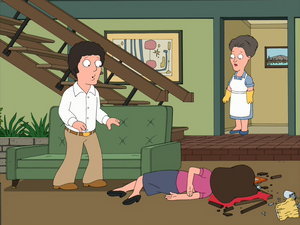 Alice Nelson is the housekeeper for the Bradys on the television show The Brady Bunch. She is played by Ann B. Davis.
She appears in the center square of a Brady Bunch mock-up featuring news reporters arguing in "E. Peterbus Unum".
In "Emission Impossible", Stewie recalls what happened when cousin Oliver replaced Bobby on The Brady Bunch. When Bobby shows up, he is forced back into the garage by Mike Brady.
In "PTV", the show is the first to be seen after the heavy censorship by the Federal Communications Commission was lifted. The episode depicts the family standing around the toilet, Cindy showing them her defecation.
In "Spies Reminiscent of Us" she witnesses Mike Brady injure or kill his first wife and comments on getting a raise.
In "Excellence in Broadcasting", widescreen television is explained. When the usual grid of the family is expanded, it shows how Mike and Carol would look in bed, with three black guys flanking them on both sides.
In "Livin' on a Prayer", Peter watches the first post-Roe V. Wade episode of The Brady Bunch where the kids have been replaced by animals and upscale material possessions. Alice remains in her usual place on the family grid.
Community content is available under
CC-BY-SA
unless otherwise noted.