Doctor Strange in The Multiverse o Madness - The Loop
Play Sound
All About Alana
Lois' piano student comes to work for the Griffins.

Season: 20 Episode: 17
Total Episode Count: 386
Prod. no.: LACX15
First Aired: May 1, 2022

Guest Starring: Elizabeth Gillies
Featuring: Lois, Alana Fitzgerald
Also Appearing: Peter, Brian, Stewie, Meg, Chris, Joe, Kevin Swanson, Bonnie Swanson, Quagmire, Cleveland, Donna, Jerome, Elmer Hartman, Hank Hill, Dale, Bill, Boomhauer
Musical Numbers: Loving You/Ain't We Got Fun, Theme Song

Director: Joe Vaux

Assistant Director
:
Mark Covell
Writers
:
Danny Smith
Storyboarders
:
Mia Hyemin Kim
,
Michael Narren
,
Michael Rundle
Plot
: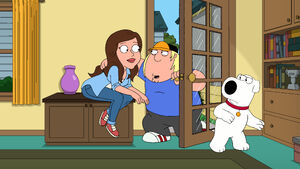 The show opens on Alana's wedding as Stewie provides a flashback. After a piano lesson, Alana reveals that she may not be able to get into college due to money issues, so Lois talks Peter into hiring her as a housekeeper. Things go great, and the family quickly warms up to her. but when getting a late night snack, Peter runs into her in her nightgown where she flirts with him. Unaware of this, Lois confesses to Brian that something doesn't feel right while they play at the park. Brian agrees to intervene and tries to talk things over with her, but she manages to distract him. Lois then tries to pay for her college to get her out of the house, but she uses the money to hire a couple of hitmen.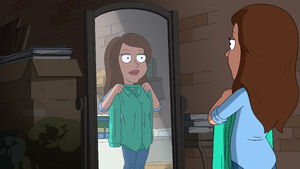 When Lois reports for breakfast the next morning, she finds Alana dressed in her clothes and a red wig, but Lois draws the line when she offers to go to the grocery store. While out shopping, Lois is distracted by a new store but finds it's a trap by the hitmen. Meanwhile, Alana has completely replaced Lois at home as Lois is tossed over a cliff. However, Peter vows that no one can replace Lois until Meg mentions dinner, which brings us to the wedding we saw in the beginning. As Peter almost completes the ceremony, Lois smashes her way through a stained glass window, having been tossed over the cliff at the same time as the wedding to the church directly below, to stop the wedding and confronts Peter over almost marrying Alana. He admits that she's the real one for him and he only liked what Alana stole from Lois, as the former is placed under arrest by Joe, who admits this is his favorite arrest.
Lois visits Alana in prison where she becomes jealous of Alana's easy life and has to be hauled away when she demands they switch places. Chris interrupts Stewie's narration to get a line in which he notes a porno parody of All About Eve was nothing like the episode.