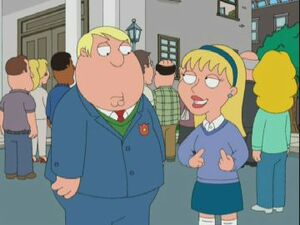 Alyssa is a pretty girl that Chris has a huge crush on in "You May Now Kiss the...Uh...Guy Who Receives". She expresses her outrage to Chris that Brian is attempting to get a petition to allow gay marriage. Later Chris asks her out and she invites him to her Young Republicans meeting. Alyssa tells Chris that if he destroys the petition she will let him touch her boobs. Although Chris is torn between desire of Alyssa and his concern for Brian, events in the Mayor's office take the matter out of his hands.
Alyssa is voiced by Chad Morgan.
Community content is available under
CC-BY-SA
unless otherwise noted.