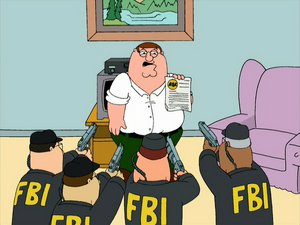 The American Broadcasting Company (ABC) is an American television network. Created in 1943 from the former NBC Blue radio network, ABC is owned by The Walt Disney Company and is part of Disney-ABC Television Group. It first broadcast on television in 1948. Corporate headquarters are in Manhattan in New York City, while programming offices are in Burbank, California adjacent to the Walt Disney Studios and the Walt Disney Company corporate headquarters.
When Peter and Chris pass a collection of television monitors in "If I'm Dyin', I'm Lyin'", Jeopardy! is airing on ABC.
In "The Father, the Son, and the Holy Fonz", Stewie tells the audience to go watch Desperate Housewives on ABC for five seconds to see how ugly the women are. He then makes a comment about actress Marcia Cross's face looking like someone stretching Silly-Putty over their knee.
From 1970 to 2005, ABC was the home of Monday Night Football. In "A Very Special Family Guy Freakin' Christmas", Peter attempted to record a matchup between the Pittsburgh Steelers and New England Patriots. The act is prohibited without the written consent of the broadcaster and the league. The minute he pressed record, the FBI intervened, and Peter showed he only had consent from ABC. As a result, the FBI then shoot his VCR.
Representatives from the network hold auditions for The Bachelorette in "Brian the Bachelor".
Brian tries to avoid ABC and its sister stations because of Walt's Anti-Semitism, as revealed in "Movin' Out (Brian's Song)". He advises others to do the same.
Community content is available under
CC-BY-SA
unless otherwise noted.