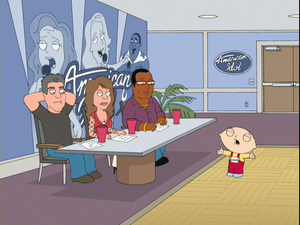 American Idol is a reality television competition to find new solo singing talent. Debuting on June 11, 2002 as American Idol: The Search for a Superstar on the FOX network and airing for fifteen seasons there, the series employed a panel of judges who critique the contestants' performances.
In "It Takes a Village Idiot, and I Married One", Ashley Ferl, the "Crying Girl" from season six, is seen crying for Lois Griffin after she won Quahog's mayoral race. The episode uses the clip, live-action of course, from Idol.
In "Lois Kills Stewie", it is revealed that Stewie Griffin auditioned for the show, singing "Lost in Your Eyes" by Debbie Gibson. The judges at the time, Randy Jackson, Paula Abdul, and Simon Cowell, providing their own voices, gave Stewie bad reviews for his performance, and thus he did not make it to Hollywood. Stewie believes his plans for world domination will go better than this experience did.
In Something, Something, Something, Dark Side Luke Skywalker, played by Chris Griffin, is seen on the set of the show, and Ryan Seacrest hosts, as he does in reality.
The show was mentioned in the song "You Can Find It on TV" at the 59th Annual Primetime Emmy Awards, specifically its sixth and then-most recent season and contestant Sanjaya Malakar.
Peter mentions in "3 Acts of God" that Carrie Underwood "won her job in a contest", a reference to her winning the fourth season of American Idol.[1]
Community content is available under
CC-BY-SA
unless otherwise noted.