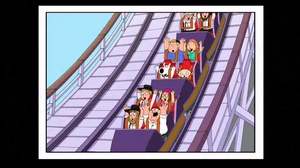 The ending parodies National Lampoon's Vacation including the song "Dancin' Across The USA" by Lindsey Buckingham.
"By Mennonites" is a reference to the advertising jingle "By Mennen" of the Colgate-Palmolive Company. Its most notable product is the Mennen Speed Stick deodorant.
Seth Green who voiced Eli co-starred in a 2008 film titled Sex Drive as an Amish youth named Ezekiel. When the film's principal starring character broke down in Amish country, his car is towed by Ezekiel's buggy similar to the manner in which the Griffins are given a team of horses in order to leave.
Community content is available under
CC-BY-SA
unless otherwise noted.