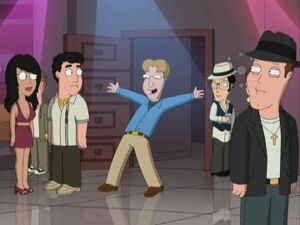 Andrew Ryan Dick, (born December 21, 1965), best known as Andy Dick, is an American comedian, actor, musician and television/film producer. He is perhaps best known for portraying eccentric characters in films and television series, as well as his sensationalistic and controversial behavior related to substance abuse.
Dick's first regular television role was on the short-lived but highly influential Ben Stiller Show. In the mid-1990s, he had a long-running stint on NBC's NewsRadio. He briefly had his own program, The Andy Dick Show on MTV, and he is also noted for his outlandish behavior from a number of Comedy Central Roasts.
He makes an appearance in "Road to Europe" with Jerry Seinfeld and Andy Rooney on the same airplane flight as Brian and Stewie Griffin.
In "Tales of a Third Grade Nothing", his arrival ruined the coolness of pLace, the nightclub owned by Brian and Stewie Griffin and Frank Sinatra, Jr..
Joe tries to justify his suicidal behavior by using Andy Dick as an example in "#JOLO".
Dick is touted as a performer on Cox On Demand in "Pawtucket Pat".
Community content is available under
CC-BY-SA
unless otherwise noted.