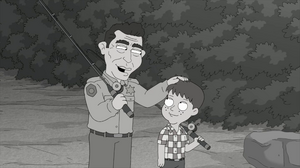 Andy Samuel Griffith (June 1, 1926 – July 3, 2012) was an American actor, television producer, Grammy Award-winning Southern-gospel singer, and writer. He was a Tony Award nominee for two roles, and gained prominence in A Face in the Crowd before he became better known for his television roles, playing the lead characters in the 1960–1968 situation comedy The Andy Griffith Show and in the 1986–1995 legal drama Matlock.
In "Farmer Guy", after Brian points out that things are not as innocent as they seem, a cutaway features the opening of The Andy Griffith Sow. When Opie Taylor pitches a rock into the woods, he strikes a black father in the head, receiving an "attaboy Op" from Andy.
Don Knotts claims in ""Family Guy" Through the Years" that Andy used to beat him up due to drinking, and says that Ron Howard can confirm it.
Community content is available under
CC-BY-SA
unless otherwise noted.