Line 2:
Line 2:
 

'''Anil Kapoor''' (born 24 December 1956) is an Indian actor and producer, notable for his work in ''Gandhi, My Father''.

 

'''Anil Kapoor''' (born 24 December 1956) is an Indian actor and producer, notable for his work in ''Gandhi, My Father''.

 
 
−

Anil provides his own guest voice in "[[Road to India]]" in the role of Prem Kumar from ''Slumdog Millionare'' as the host of a ''Who Wants to be a Millionaire'' game show. [[Brian]] goes on the show in order to win enough money to pay back [[Padma]]'s father for her dowry after she breaks off a wedding to be with Brian, although he bombs when he is shown to not know India and its culture.

+

Anil provides his own guest voice in "[[Road to India]]" in the role of Prem Kumar from ''Slumdog '' as the host of a ''Who Wants to be a Millionaire'' game show. [[Brian]] goes on the show in order to win enough money to pay back [[Padma]]'s father for her dowry after she breaks off a wedding to be with Brian, although he bombs when he is shown to not know India and its culture.

 

[[Category:People]]

 

[[Category:People]]

 

[[Category:Celebrity Voices]]

 

[[Category:Celebrity Voices]]
---
Latest revision as of 20:35, 27 April 2021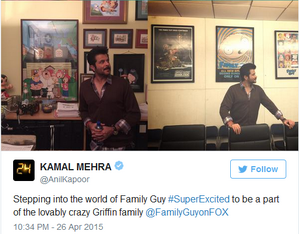 Anil Kapoor (born 24 December 1956) is an Indian actor and producer, notable for his work in Gandhi, My Father.
Anil provides his own guest voice in "Road to India" in the role of Prem Kumar from Slumdog Millionaire as the host of a Who Wants to be a Millionaire game show. Brian goes on the show in order to win enough money to pay back Padma's father for her dowry after she breaks off a wedding to be with Brian, although he bombs when he is shown to not know India and its culture.
Community content is available under
CC-BY-SA
unless otherwise noted.