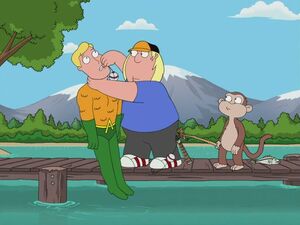 Aquaman is a DC Comics superhero who was a founding member of the Justice League. He has made several appearances on Family Guy.
In "A Hero Sits Next Door", he watches Peter Griffin play strip poker with Wonder Woman.
"The Father, the Son, and the Holy Fonz" opens with the Griffins watching Aquaman's TV show. He attempts to use his powers to convince a fish to get him a beer, who resists and claims that he is abusing his powers. They begin to argue about it until Aquaman says that this time could've been used to get him a beer.
He also appears in "Baby Not On Board", as Stewie Griffin compares Peter's uselessness to that of Aquaman's. A girl is being raped on the shore and Aquaman is in the ocean unable to use his powers on land. He throws a starfish, which does nothing.
In the beginning of "Family Goy", all the Griffins are dressed up as Justice League characters (excluding Meg Griffin), and Chris Griffin is dressed up as Aquaman.
Chris and the (former) Evil Monkey catch Aquaman while fishing in "Hannah Banana" and eat him.
Peter, who believes Aquaman is his hero, reveals Aquaman's secret identity of Arthur Curry in "Quagmire's Dad", where his friends are saved by Aquaman, who quickly changes back to Curry.
Aquaman appears when Peter and the guys watch The Superfriends Accountant in "Grumpy Old Man".
Glenn Quagmire dresses as Aquaman as part of Peter's plan to reunite Billy Finn with his wife Joanne in "Be Careful What You Fish For".
In "Veteran Guy", they guys blow off doing their assigned patrol duties to converse with the Sub-Mariner, mistaking him for Aquaman. When he tries to explain the differences between the two, he loses the guys interest because he can't talk to fish like Aquaman who appears and demonstrates.
Aquaman is usually voiced by Seth MacFarlane. In "Grumpy Old Man" he is voiced by Danny Smith.
Community content is available under
CC-BY-SA
unless otherwise noted.