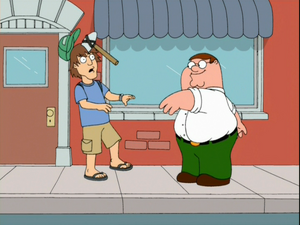 Christopher Ashton Kutcher (born February 7, 1978), best known as Ashton Kutcher, is an American actor and former fashion model best known for playing Michael Kelso in the FOX sitcom, That '70s Show. He was the creator, executive producer, and host of the MTV celebrity prank show, Punk'd. He is known for his roles in films such as Dude, Where's My Car?, Just Married, The Butterfly Effect, The Guardian and What Happens in Vegas. He was also Charlie Sheen's replacement on Two and a Half Men.
Kutchner married his That '70s Show co-star and voice of Meg Griffin, Mila Kunis, in July of 2015. Together they have two children, daughter Wyatt and son Dimitri.
In "I Take Thee Quagmire", a cutaway shows Peter throwing a tomahawk at Kutcher. He then explains he had just been Tomahawk'd, a parody of Kutcher's show, Punk'd.
Joe Swanson interrogates Glenn Quagmire after he joined Peter and Mort Goldman in burning down Goldman's Pharmacy in "Burning Down the Bayit". Quagmire uses going to see the Ashton Kutcher film No Strings Attached as his alibi but Joe trips him up over Ashton's character.
Ashton appears as himself in "Candy Quahog Marshmallow!" in a mock Korean commercial for cooking bags for roadkill dogs.
Community content is available under
CC-BY-SA
unless otherwise noted.