Meg and Chris share 'edibles' before entering the escape room.
Aside from Stewie, Meg is the only other member of the family to show any sign of intelligence in the escape room.
As Stewie begins his transformation, he sings a version of "Graduation (Friends Forever)", originally by Vitamin C.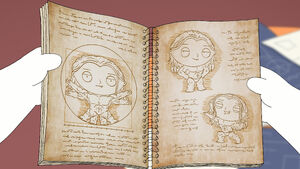 Stewie names his gene-altering device, or G.A.D., after actor Josh Gad.

Stewie's operation manual for G.A.D. only features him with different Chris Hemsworth haircuts.
With Brian's operation of the device, Stewie develops a hand on his head, has his arm and legs swap positions, becomes a turtle, has extremely long legs, becomes a caveman, a creature resembling Pikachu, gets his Chris Hemsworth haircut, a bottom with no torso, a torso with no bottom, a spider, Audrey II from Little Shop of Horrors, his normal self, various blobs, a pile a poop and a Gremlins-like creature.

In the short "Mailbox Madness", Cleveland receives a text that his mother Cookie Brown has died, although this is unclear if it is only a gag in the short.
Community content is available under
CC-BY-SA
unless otherwise noted.