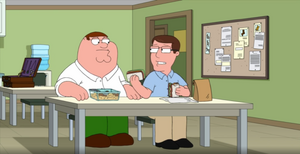 Bentley is one of Peter's co-workers at the Pawtucket Brewery in "Short Cuts".
When Peter refuses to acknowledge Lois' new haircut, his friends convince him to become annoying because he disapproves of it. She decides to play the game back and sets up a table of homemade jewelry to sell at the brewery during lunch. Peter points out that when wives try to peddle things at their husbands workplace, the guys are never treated the same again. He points out Bentley, whose wife asked him to put up a sign-up sheet to sponsor her for an AIDS Walk, and notes that they've hated him since. But when he continues to tell her that he likes her haircut she proceeds with her sale, the rest of the employees glowering at him force him to take a seat with Bentley. But when the latter offers him half of a sandwich, Peter refuses it because of his wife being involved with AIDS patients.
Community content is available under
CC-BY-SA
unless otherwise noted.