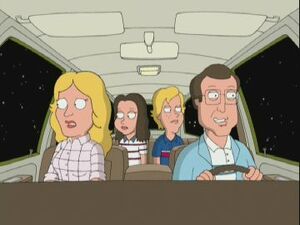 Beverly D'Angelo (born November 15, 1951) is an American singer and actress. After gaining minor roles in movies including Annie Hall, D'Angelo had a string of hit movies in the late 1970s, appearing in Every Which Way But Loose, Hair and Coal Miner's Daughter. Her biggest break came with Chevy Chase in the 1983 National Lampoon's Vacation. Her role as Ellen Griswold was reprised in three Vacation sequels from 1985 through 1997. In 1992, she had a guest appearance in the third season of The Simpsons as Lurleen Lumpkin, a beautiful, Southern country singer and waitress, in "Colonel Homer", and sixteen years later in 2008, she appeared in the nineteenth season reprising her role as Lumkpin in the episode "Papa Don't Leech".
She has a recurring role on Law & Order: SVU as defense attorney Rebecca Balthus. In 2008, D'Angelo had a role in the film Harold and Kumar Escape from Guantanamo Bay as Sally.
She provides the voice for her National Lampoon's Vacation character Ellen Griswold in Blue Harvest.
She is also mentioned in "8 Simple Rules for Buying My Teenage Daughter".
Community content is available under
CC-BY-SA
unless otherwise noted.