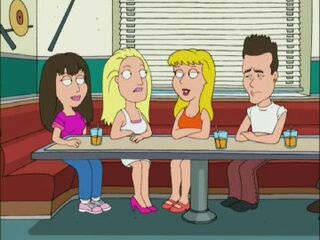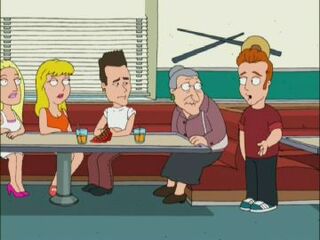 Beverly Hills, 90210 is a prime time television drama series that aired from October 4, 1990 to May 17, 2000 on FOX in the United States, and subsequently on various networks around the world. The show followed the lives of a group of teenagers living in the upscale, star-studded community of Beverly Hills, California and attending the fictitious West Beverly High School and, subsequently, the fictitious California University after graduation. The show was created by Darren Star and produced by Aaron Spelling and Spelling Television. The "90210" in the title refers to the city's ZIP code. In addition to chronicling the friendships and romantic relationships of a group of close-knit teenagers, the show also addressed numerous topical issues including date rape, alcoholism, domestic violence, gay rights, drug abuse, teenage suicide, AIDS, teenage pregnancy, and abortion.
In "I Never Met the Dead Man", Peter Griffin, through his mobile cardboard television, interprets the goings-on at James Woods Regional High School to be the equivalent of Beverly Hills, 90210 while television service in Quahog, Rhode Island is temporarily down.
In "The Story on Page One", Peter tells Luke Perry that Dark Side of the Moon synchs up with The Wizard of Oz. Perry mentions that he heard the same from co-star Shannon Doherty but thought that she was just being a bitch, a popular tabloid portrayal of the actress.
In Stewie Griffin: The Untold Story, Jennie Garth, Jason Priestley, Luke Perry, Shannen Doherty, and Tori Spelling appear in a cutaway that parody their teenage characters, even though they began portraying them in their mid-20s.
The show was indirectly mentioned in "Death Is a Bitch" when Peter said he would have nothing to watch on Wednesday nights if he, as Death, killed the cast of Dawson's Creek. He then stops to mention the fine shows on FOX. Beverly Hills, 90210 held the 8 PM timeslot on FOX's Wednesday night lineup, competing against Creek.
Community content is available under
CC-BY-SA
unless otherwise noted.