Wiki Targeted (Entertainment)
Play Sound
[For a complete script, see: "Big Trouble in Little Quahog" at the Transcripts Wiki]
---
Stewie: [Explaining his cat face paint to Brian] I'm a calico and my name is Humphrey.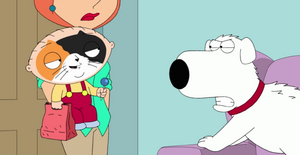 ---
Lois: [While vacuuming] I HATE MY LIFE AND NOBODY CAN HEAR ME SAY IT RIGHT NOW.
---
Stewie: Oh, it's a dog whistle.
[Stewie blows the dog whistle and Brian covers his ears, screaming in pain]
Stewie: I've always wondered what that sounds like to you.
[Stewie blows the whistle again, and Brian hears the voice of Gilbert Gottfried]
Gilbert: DOG WHISTLE! DOG WHISTLE! WHERE ARE YOU, DOG!?
---
Stewie: What's with your gay character names, lately? Stacy Jacks, Jack Reacher? Who are you playing next?
Tom Cruise: Oh, right. Try to make this sound gay. Next up, I play Headmaster Bates Mann.
Stewie: Anything else?
Tom Cruise: Actually yes. After that, I'll be taking the role of Major Dixon Butts, then Senator Rod Clutcher.
---
[Stewie talks out loud, as he types up a text to Brian]
Stewie: Brian, sorry I got testy. Let's bury the hatchet. If you're free, I'd love to hear about any new writing projects, you're working ...
[Brian knocks on the door]
Stewie: At least wait for me to send it.
---
Stewie: Well, Brian. You seemed to enjoy belittling me, so I decided to belittle you.
---
Brian: I'm sorry!
Stewie: For what?
Brian: For calling you a shrimp.
Stewie: And?
Brian: What do you mean, "And"?
Stewie: Come on, you know what I want.
Brian: And ... all four chairs would totally turn for you, on The Voice.
---
Stewie: I'll have what she's having.
---
Exterminator: Hi, I'm the exterminator.
Peter: An Ex-Terminator? So, you used to be a Terminator?
Exterminator: No, I kill rats and bugs.
Peter: And Sarah Connor.
Lois: No, Peter. We have a rat.
Exterminator: My stuffs in my truck. [puts on shades] I'll be back.
---
Vernon: My name's Vernon. I'm a water bear.
Brian: Water bear? What's a water bear.
Stewie: They're predominantly water-dwelling, eight-legged, segmented micro-animals. They're also known as a moss piglet or a tardigrade.
Vernon: You can call me "Tardy", but I'm always on time.
---
Black Water Bear: Flagellum? I don't even know 'em!
---
Brian: I can't believe there's this whole universe, hidden here in your rug ... where everyone speaks English.
Stewie: Okay, Brian, take the ride.
---
Gay Water Bear: I'm the gay one, but ... I'm not ... like, doing the gay voice.
---
Patrick Stewart Water Bear: Patrick Stewart!
---
[Meg and Chris suffer through gaseous rat poison, and a portal to the other side opens and Prince comes out]
Prince: Meg, Chris, come to the light.
Chris: Meg, no! Don't do it! Don't go to Prince!
Prince: Come to the purple light, Meg. Come taste infinity!
Chris: Don't listen to him, Meg!
Meg: But he's so talented and he's got so many drugs.
---
Gay Water Bear: Oh my gay God!
---
Stewie: [referring to a well-endowed pony at a birthday party petting zoo] The pony was magnificent.
Lois: [oblivious to Stewie's comment] The pony was magnificent.