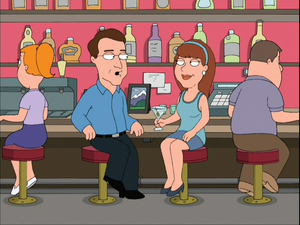 Robert Lane "Bob" Saget (born May 17, 1956) is an American stand-up comedian, actor, and television host. Although he is best known for his past roles in the family-oriented shows Full House and America's Funniest Home Videos, Saget is known outside of television for his starkly blue stand-up routine. He is also the uncredited narrator of the CBS sitcom How I Met Your Mother.
He desperately tries to get a date in "Peter's Daughter". While trying to convince the potential date to go out with him, he explains which shows' money would pay for certain portions of the date.
In "420", Peter Griffin, in an anti-marijuana campaign video mentions that he can't understand how Josh Radnor's character Ted Mosby, the main character, grows up to become Saget, the narrator, when Ted is already an adult.
Community content is available under
CC-BY-SA
unless otherwise noted.