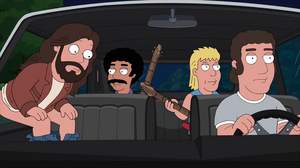 Bob Seger (born May 6, 1945) is an American rock singer-songwriter, guitarist and pianist. In 1973, he put together The Silver Bullet Band, a group of Detroit-area musicians, with whom he became most successful on the national level.
After Meg plays Bob's "Night Moves" for Peter in a diner in "Meg Stinks!", she reveals that she listens to him play it a lot in the car. When she later jokes about their dinner causing them to make a couple of "night moves" themselves, Peter reveals that all of Bob's songs are about pooping, naming off such titles as "Against the Wind", "Like a Rock" and "The Fire Down Below". A cutaway shows Bob taking a dump while hanging out of a car window with the band and being inspired for more lyrics.
Community content is available under
CC-BY-SA
unless otherwise noted.