The title is a callback to Peter's attempt to speak Italian in "McStroke".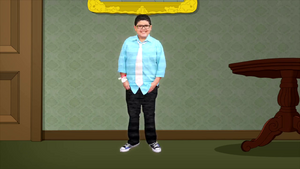 Peter presses 'Guide' on the TV Remote in Italy, turning Stewie briefly into Bart Simpson, Rallo Tubbs, Bobby Hill, Steve Smith, Allen Gregory, Louise Belcher, Manny Delgado and Bender.
Peter reads Water Park Enthusiasts Weekly.
Chris thinks the American National Anthem is "I Will Always Love You".
While on his bicycle, Peter says "insalata caprese" to Vincenzo. Insalata caprese is an Italian salad.
The Italian phone number Brian gave Stewie is 195-655-501-881-453-989-900-168-94-52.
The aerial view of the soccer stadium bears a strong resemblance to Camp Nou in Barcelona, Spain.
Community content is available under
CC-BY-SA
unless otherwise noted.