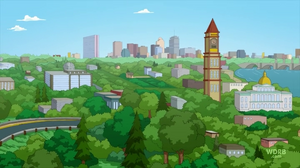 Boston is the capital of the Commonwealth of Massachusetts and its largest city, and is one of the oldest cities in the United States. It was named Boston by early settlers from Boston, Lincolnshire in England.
Boston and its environs are often featured in Family Guy and in particular its baseball team, the Boston Red Sox.
In "The Giggity Wife", Peter, Quagmire and Joe head to Harvard in nearby Cambridge and then go on a drunken night on the town in Boston, stopping at the Boston Public Library, the New England Aquarium, the Boston Garden and Peter hijacks the U.S.S. Constitution and sails it through the streets of Boston.
Peter and Lois visit Boston after he wins a church raffle for a Red Sox baseball all-star camp at Fenway Park in "Peter's Lost Youth". Lois, while only intending a weekend getaway in the city, is invited to join the team as well. When the family later gathers to cheer on Peter during the team's game in the park, Stewie browses for shops in the city.
Peter and Lois elope to Fenway Park in "Peter & Lois' Wedding" after escaping from her family who want her to marry Tom Tucker. Their on-field wedding ceremony causes the Red Sox to lose their game and earns the wrath of the fans.
Joe mentions going to see Coldplay in Boston in "Undergrounded". Cleveland attended the same show.
In "Baby Stewie", Stewie insists that genetic modification will change the world, like when James Taylor changed rock and roll. A cutaway gag shows him preparing to sing a song that is really just directions to Boston.
Community content is available under
CC-BY-SA
unless otherwise noted.