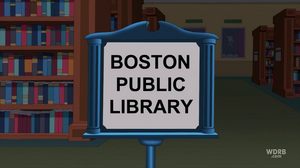 The Boston Public Library (est.1848) is a municipal public library system in Boston, Massachusetts, United States. It was the first publicly supported municipal library in the United States, the first large library open to the public in the United States, and the first public library to allow people to borrow books and other materials and take them home to read and use. The Boston Public Library is also the library of last recourse of the Commonwealth of Massachusetts; all adult residents of the commonwealth are entitled to borrowing and research privileges, and the library receives state funding. The Boston Public Library contains 8.9 million books and audio/visual materials, making it the second-largest public library in the United States, according to the American Library Association.
During a drunken night in Boston in "The Giggity Wife", Peter reads and vomits on Betty Friedan's The Feminine Mystique at the Boston Public Library.
Community content is available under
CC-BY-SA
unless otherwise noted.