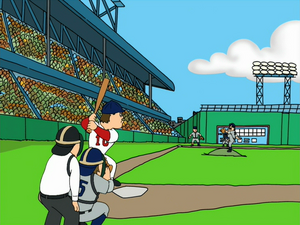 The Boston Red Sox are a professional baseball team based in Boston, Massachusetts, and a member of the Major League Baseball's American League Eastern Division. Founded in 1901 as one of the American League's eight charter franchises, the Red Sox's home ballpark has been Fenway Park since 1912. The "Red Sox" name was chosen by the team owner, John I. Taylor, around 1908, following previous Boston teams that had been known as the "Red Stockings".
Red Sox history has also been marked by the team's intense rivalry with the New York Yankees, arguably the fiercest and most historic in North American professional sports.
Peter Griffin is a big fan of the team. In "Mr. Griffin Goes to Washington", he takes his family to Opening Day of the new season against the Yankees. He even snatches a home run ball away from Jeremy the Terminally ill Boy. He gives it to his infant son Stewie as a souvenir from his first baseball game. He then tricks another boy into giving him his bat. Jonathan Weed, Peter's boss at Happy-Go-Lucky Toy Factory, also attended to the game much to his surprise. To go to the game, Griffin had made an elaborate excuse as to why he wasn't coming into work that day. According to the episode, it is implied that God is a Red Sox fan, as recorded in John 3:16, where it reads "and God said "Go Sox"".
Peter, Brian, and Stewie also see a Red Sox game at Fenway in "The Courtship of Stewie's Father". However, Stewie is accidentally left in the car.
Griffin had taken his father Francis to a game of the team's AAA minor league affiliate, the Pawtucket Red Sox in "Holy Crap".
During the musical number "Road to Rhode Island" in the episode of the same name, Brian wears a #86 Red Sox jersey.
Peter talked about the team with Evan Johnson, a now-ex-husband of Carol Pewterschmidt, as revealed in "Brothers & Sisters".
The team has been referenced many other times, including in church in "Lethal Weapons".
When Peter and the guys take in a ballgame in "The Old Man and the Big 'C'", Quagmire loses his toupee in an attempt to get a fly ball and becomes a laughingstock.
The Red Sox are mentioned in the Dyslexic Baseball Wrap Up in "The Giggity Wife".
Lois, Joe and Quagmire take in a Red Sox game in "Total Recall".
Peter wins a fantasy baseball camp weekend at Fenway with many retired former Red Sox players in "Peter's Lost Youth".
When Peter finds himself one of the only active persons in the Eastern United States after a severe bout of the flu in "Fecal Matters", he goes to Fenway Park to pretend that he's a Boston Red Sox player. But when he strikes out in his fantasy, he demotes himself to the Pawtucket Red Sox.
When Peter takes Chris to a Red Sox game in "And Then There's Fraud", the latter brings a baseball from home thinking he needs it to catch a glove. When baseball player Xander Bogaerts hits his 200th home run into the stands, setting off a scrimmage for the ball, Chris' ball is mistaken for the one that was hit. after the game a fan pays them $300 for the ball, which give them the idea to sell fraudulent sports memorabilia.
Community content is available under
CC-BY-SA
unless otherwise noted.