The episode was initially scheduled to air on February 14, 2021, but was bumped after a significant rain delay of the Daytona 500 canceled the entire Animation Domination block. As with "Cutawayland", the episode aired on Citytv Canada on its original date.
Although the press release reported Joe's car as a vintage Corvette, the promo images show it as based on the 1955 Chrysler C-300.[1][2]

The car is equipped with the correct dash-lever PowerFlite automatic transmission, although Joe pretends to shift gears as if it were a manual transmission. It also incorrectly shows a parking and two lower gears. The PowerFlite and its 1956-60 successor Torqueflite utilized parking brakes in neutral instead of a parking gear. It's also shown as a convertible, a body style not available until 1957.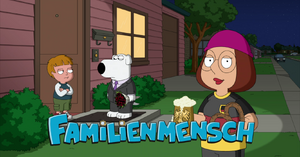 Meg hosts reruns of Family Guy in Germany.
Brian and Holly sing "Somethin' Stupid", originally by Nancy and Frank Sinatra. This is reflected in the comment about it being a song from a father to his daughter.
Brian associates Dylan Flannigan's birth date with the film Ratatouille.
Joe's jukebox references the many classic rock 'n' roll songs that appear to be about statutory rape.[3][4]

"Thirteen Candles" references "Sixteen Candles" by The Crests (1958)
The third song is a parody of "Rock Around the Clock" by Bill Haley and the Comets

Quagmire listens to the podcast The Moth.[5]
The final German dialog translates as:

Peter: I am glad that everything is back to normal.
Quagmire: I'm sorry about your car, Joe.
Joe: It's OK. Now where is Jerome with the wiener?
Community content is available under
CC-BY-SA
unless otherwise noted.