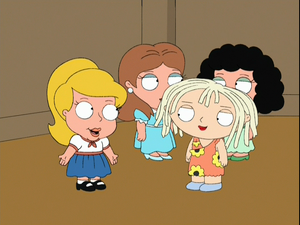 Twelve-year old Camilla Stull, who guest starred in this episode, died on April 16, 2007 after a three-year battle with leukemia. Her dream of becoming an actress came true as Drew Barrymore introduced her to Seth MacFarlane, who gave her a one-episode contract according to the DVD commentry.
Blue-collar comedian Bill Engvall provides the voice of the Texan news journalist Duke Dillon.
In "Bango Was His Name Oh", Peter said that horses are terrible people. However, he is at peace with horses in this episode.
The S&M cow also makes a return cameo appearance.
This is the second time the family has been on the run. The first was "Breaking Out is Hard to Do".
This episode is one of the largest examples of Stewie's potential homosexuality/gender issues:

Imagining Jesus washing himself in a parody of a scene from the film Witness.
"I feel right" when Brian asked Stewie, in girl's clothing, how he was holding up.
"None for me, thanks, it's gonna go straight to my vagina" when Lois asked if anyone wants cake which Stewie replies above dialog and asks "That's what girls worry about, right? Having big vaginas?."
Entering and winning the Little Miss Texas beauty pageant.

Brian is in the church singing, but in "Love, Blactually", it is revealed he is an atheist. This is evidence that despite his personal beliefs, he is willing to keep peace within the family by attending church.
This is RJ's first appearance. During an interview with Tom Tucker, he claims that he once saw Bigfoot while making love with his girlfriend at the lake. He also talks about things that he says make his girlfriend say that "there was no way".
Stewie says he feels like Britney Spears because he's "standing in urine and hates the person she's with.," Spears' ex-husband Kevin Federline.
The show starts with a commercial for a new Julia Louis-Dreyfus sitcom Now It's Just Getting Sad, a nod to the "Seinfeld Curse"; the trend of the former cast members of Seinfeld not starring in anything successful after Seinfeld. Louis-Dreyfus's sitcoms The New Adventures of Old Christine and Veep have became successes and therefore broke the "curse".
9/11 is mentioned once again when Stewie, chuckling to Brian about an Indian convenience store clerk's accent and poor English, says, "If it weren't for 9/11 those guys would be adorable."
Peter makes fun of Sarah Jessica Parker and Kirsten Dunst by saying it's impossible to decide the winner between the two in a hot body/weird face competition.
Stewie's bit about chocolate and raisins makes fun of the Nestlé Chunky bars.
In a cutaway that illustrates how stubborn conservatives purportedly are, a man is seen playing a game of Six Degrees of Kevin Bacon with a mule, arguing over whether Kevin Bacon starred in Footloose or not.
Lois receives a stitching of Chuck Norris from one of their neighbors in Texas. Peter says that "Chuck Norris is so tough, under his beard, there is no chin...only another fist." Chuck Norris shows up and punches Brian in the face with a fist that emerges from beneath his beard, and again later to punch a girl that threatened Stewie's chances of winning the pageant.
The old man mentions that he purchased his trousers at Caldor, a mention of the now-bankrupt discount department store chain.
Peter's speech in the end about values and television shows is a jab at Parents Television Council and other individuals and groups who have criticized Family Guy regarding the themes and language used in the show. The PTC also frequently names Family Guy the worst of the week on their website.
The welcome sign says 'Welcome to Texas: The Fuck You State' with "fuck" digitally blurred out in the censored versions.
In the uncensored version, the church pastor has a different sermon. In the FOX version, the sermon was from the book of John and it was about a man complaining about a couple living in an upstairs apartment with a crying baby. Uncensored, the sermon is from the book of Leviticus and was centered around a man ejaculating into a sock and trying to hide it in a clothes hamper.
Stewie's line about child beauty pageants being a "first class ticket to a semen-stained death in the basement" is changed to the more explicit "semen-covered death in the basement."
Community content is available under
CC-BY-SA
unless otherwise noted.