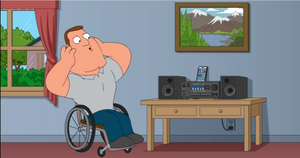 Joe listens to "Tubthumping" by Chumbawumba.
One of the inquiries in Brian's search history regards the possible sale of Anton Yelchin's Jeep. Yelchin, notable for the role of Chekov in the J.J. Abrams reboot of Star Trek, was killed by his jeep when it rolled backwards and pinned him to a pillar and security fence.[1]
When 'Real Brian' and 'Robot Brian' refer to each other as 'RB', Stewie claims that Arby's makes him sick, which was a recurring punchline on The Daily Show and Jon Stewart.[2]
Peter claims that being lead singer for the Pretenders is the world's oldest profession; Chrissie Hynde has held that position since 1978 and is the only surviving original member.[3]
This episode features examples of Brian being bisexual. In addition to having relations with his own robot double, at the end of the episode, robot Brian goes off to the marina and is shown to have both oral and anal sex with men as indicated by Stewie's notification going off repeatedly. Stewie previously noted that the robot wouldn't do anything Brian wouldn't.
Cleveland and Joe communicate with Stewie about fashion, showing they can understand Stewie's speech.
Community content is available under
CC-BY-SA
unless otherwise noted.