This is the second episode title to refer to Issac Asimov's I, Robot, after "Guy, Robot".
Peter mentions that he spent $200 for Reading Railroad, one of the properties in the game of Monopoly.
One of Brian's suggested titles Are You There, Dog? It's Me, Brian mimics the title of the Judy Blume book Are You There, God? It's Me, Margaret.
Brian and his robot double posing as the 'Barklevoss twins' at Harvard mimic the Winklevoss twins and their claim of Zuckerberg stealing their idea of Facebook.
Bark to the Future refers to Back to the Future.
Robot Brian comes with the new U2 album, a reference to the album Songs of Innocence, given to all iTunes users for free in 2014 whether they wanted it or not.[1]
Peter and Lois' gifts to each other parody the story The Gift of the Magi, in which the male sells his watch to buy a comb and the female sells her hair to buy him a watch chain.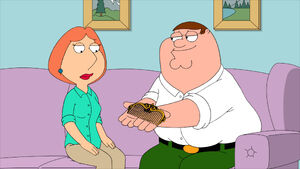 Community content is available under
CC-BY-SA
unless otherwise noted.