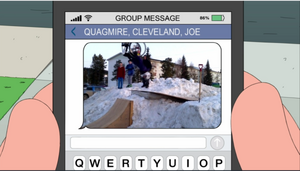 The wheelchair backflip video was performed by Darryl Tait.[1]
Joe's adult teeth have never come in.
Quagmire pronounces Jerry Seinfeld's name as 'Steinfeld' and thinks his catchphrase is an exaggerated 'Par-don me!', a nod to Steve Martin's "Well, excuse me!" [2]
Brian and Ida previously had sex in "Quagmire's Dad".
Ida asks if Friday Night Videos is still a thing. The show was an American music video show that was broadcast on NBC from July 29, 1983 to May 24, 2002.
Brian boasts about attending Brown University.
The "How's Waldo?" punchline is similar to a 2011 Paul Noth New Yorker cartoon.[3]
Brian discusses IATA airport codes that don't match the airport name, like O'Hare being ORD. The reason Wilkes-Barre/Scranton is AVP is because it's located near Avoca, Pennsylvania.
Lois reveals that she thinks Peter's friends are losers.
When Ida and Quagmire are watching Night at the Museum, Patrick Gallagher's Attila the Hun can be heard arguing with Ben Stiller's Larry Daley.
When forced to play on the kids team, Quagmire angrily notes that he is older than every one of his friends. Although he doesn't specify an age here, he had previously claimed to be 61 in "FOX-y Lady", although notes in "A Fistful of Meg" and "Trans-Fat" contradict this.
Quagmire claims that Brian is only "self-published", which is not true; Wish It, Want It, Do It. from "Brian Writes a Bestseller" was published by Penguin.
Community content is available under
CC-BY-SA
unless otherwise noted.