Brian's Play
Brian's confidence is shaken when he reads a play Stewie wrote that's much better than his.

Season: 11 Episode: 10
Total Episode Count: 198
Prod. no.: AACX08
First Aired: January 13, 2013

Guest Starring: Alan Bennett
Featuring: Brian, Stewie Griffin
Also Appearing: Peter, Lois, Meg, Chris, Quagmire, Joe, Bonnie, Consuela, Dr. Hartman, Carter Pewterschmidt, Barbara Pewterschmidt, Rupert, Jasper, Mayor Adam West, Seamus, Allison, Randall Even Battencourt, Jean De Menard, Donna, Moise, Michael & Nancy, Bokyavroychesku, Sock and Buskin, Beaker, Big Bird, Stanley Kowalski, David Mamet, Alan Bennett, Yasmina Reza, Uncensored version: Herbert, Spencer
Musical Numbers: Suddenly Seymour

Director: Joseph Lee

Assistant Director
:
Wincat Alcala
Writers
:
Gary Janetti
Storyboarders
:
Won Ki Cho
,
Ricky Garduno
,
Dante Leandado
,
Stephen Wong
Plot
: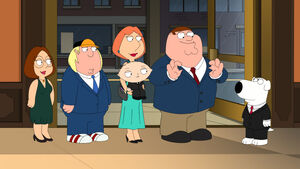 Brian writes a play that's a hit in Quahog, but just as he lets his success go to his head, Stewie comes to him wanting him to read a play he's written. Brian humors him at first but his confidence is shaken when the play Stewie wrote is much better than his. Brian tries to lower Stewie's expectations and attempts to destroy the only copy. But when Stewie finds it buried in the yard, he reveals that he knows Brian's work is inferior and that his play is Broadway bound.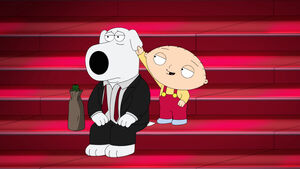 As Brian sinks into depression, Stewie invites him to escort him around New York. At a party for playwrights, Brian tries to ingratiate himself with big-name writers but find that not only had they seen his play, they pronounce it the worst piece of writing they had ever seen. Stewie finds Brian even further depressed and Brian admits he knew Stewie's writing was better but had hoped that he could have at least had a chance to be the good writer in the family before his eventual demise.
At the opening of Stewie's play, the crowd leaves unhappy and Brian is confused over why Stewie had changed it. Stewie coyly claims that he just wanted to "tweak" it a bit but had gone too far. As they leave the theater, Stewie admires New York and professes a desire to live there one day until they are snatched by a pterodactyl.

Community content is available under
CC-BY-SA
unless otherwise noted.