Wiki Targeted (Entertainment)
Play Sound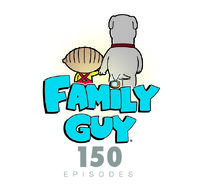 In syndication, this is the first episode of Family Guy in which Peter and Lois don't appear, leaving Brian as the only character to appear in every single episode. This continued until "In Harmony's Way", which was the first that Brian had ever not appeared in.

This is the first episode without any female characters.

This episode is a complete break from the traditional Family Guy formula as there are no cutaway gags or music used.
The episode is touted as the 150th episode but the count includes dividing up Blue Harvest into two parts, similarly dividing Something, Something, Something, Dark Side that wasn't set to air until the following week however was in production first and including "Partial Terms of Endearment" which was released on DVD but was also in production earlier. The broadcast episode count does not take in these considerations. The 150th broadcast episode is "Welcome Back, Carter".
Brian mentions the fact that Stewie can invent a time machine, which he did twice, once in "Mind Over Murder" and in "Road to Germany".
Brian says that he voted for John McCain in the presidential election.
Stewie mentions that he sometimes feels suicidal when he watches Handy Manny.
Peter is never mentioned once the whole time Brian and Stewie are in the vault, but they do mention Lois, Chris and Meg.
Brian's bottle of liquor in the safe deposit box appears to be Glenfiddich 12-year single malt scotch.
Stewie mentions that this would be his first time drinking liquor but this is not true since he had some in "Mind Over Murder" and "Stewie B. Goode". However, the first was rubbed in his mouth and the second was committed by a version of Stewie that was killed by this Stewie.
Brian eats a coconut mint Jenny Craig bar and mentions that he's eaten a grape Chris dropped at breakfast, both of which are toxic to dogs.[1][2]
Brian says that Stewie wouldn't know how to use a gun, when on numerous occasions he has been seen using lasers as well as regular guns.
Stewie says he cannot undo his diaper, whereas in "Baby Not On Board" he could.
The syndicated and unedited versions of this episode differs in the following ways:
The opening scene of Brian and Stewie introducing the episode as well as the musical numbers montage is edited out. This is also missing in the DVD-version.
The theme song is also edited and instead the words "Family Guy" is shown at the beginning of the episode just like in "Brian Griffin's House of Payne".
Stewie's line, "That's science, Brian, I'm not Houdini." is cut.
Stewie's suggestion for Brian to lick his ass is cut as well as the licking of Stewie's ass being cut.
Stewie's call to Wyndham's ends much sooner than the aired version.
Some of Stewie's dialog before Brian says "I voted for McCain" is edited out.
The security camera is not in this version of the episode.
Stewie does not mention his time in yoga class.
Brian does not say he doesn't like strawberry yogurt and Stewie does not mention how he eats the same thing every day out of a bowl.
Some of the dialog about why Brian has a gun are edited out.
The end credits roll in complete silence.
Community content is available under
CC-BY-SA
unless otherwise noted.