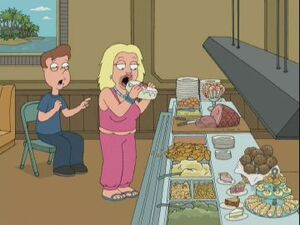 Britney Jean Spears (born December 2, 1981 in McComb, Mississippi) is an American recording artist and entertainer. Raised in Kentwood, Louisiana, Spears began performing as a child, landing acting roles in stage productions and television shows. While targeted many times on Family Guy, it is reported that she is a big fan of the show.[1]
In "Family Guy Viewer Mail #1", Peter Griffin morphed into Spears to steal Justin Timberlake's hair for Meg.
In "Model Misbehavior", Peter compares a sexier Lois to Spears, except Lois is not a fat male.
In "Prick Up Your Ears", when Stewie finds a dollar under his pillow, he says the Tooth Fairy must've been quieter than Spears' dietitian. She was eating excessively and her extremely timid dietitian attempted, unsuccessfully, to keep her from eating.
In "The Tan Aquatic with Steve Zissou", Stewie says Peter is a worse parent than Spears, who was talking on the phone when someone rang the doorbell. She extinguished her cigarette on a baby's head and dropped him.
In "Airport '07", Peter was inserted over her in the infamous crotch shot taken of her getting out of Paris Hilton's car.
Stewie suggests pretending to be her in "Boys Do Cry", claiming he's already standing in urine and with the person he hates.
She appeared in "Britney's Back", her comeback performance in the third Stewie Griffin: The Untold Story segment, "Stu & Stewie's Excellent Adventure". She was severely overweight, had diabetes, and had a peg leg. She decided to try to dance in her wheelchair and fell on a radio and caught on fire.
She appears and is mentioned in the song "I've Got a Little List" in "Lois Kills Stewie".
Spears also appeared in "Not All Dogs Go To Heaven" in a cutaway where she is cursed by a gypsy who utters the word "Thicker."
She is voiced by Rachael MacFarlane.
Community content is available under
CC-BY-SA
unless otherwise noted.