Wiki Targeted (Entertainment)
Play Sound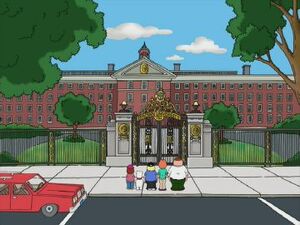 Brown University is a private Ivy League university located in Providence, Rhode Island. Founded in 1764 prior to American independence from the British Empire as the College in the English Colony of Rhode Island and Providence Plantations early in the reign of King George III (1760–1820), Brown is the third-oldest institution of higher education in New England and seventh oldest in the United States.
Brian went to college there but dropped out. He later went back in "Brian Goes Back to College" to qualify for a job at The New Yorker, but failed again. Meg had wanted to go to Brown ever since she was a little girl, but was told it is unlikely that she will get in because she had not participated in any extracurricular activities, as seen in "The Story on Page One".
Peter mentions Brian's attendance at Brown in "Peter, Chris, & Brian".
Brian boasts about attending Brown to Ida Davis in "Bri-Da".
Thanks to a faked athletic transcript from Principal Shepherd in "Meg Goes to College", Meg is admitted to Brown. But when Peter decides to stick around the college as well, he gets on her nerves until she calls him out for being a fraud. Peter retorts by making note of her fraudulent transcript and is overheard by a Dean, who suspends Meg, pending a test of her abilities. As Meg is able to accomplish most of the items claimed, she passes just about every test put before her. But when she attempts to windsurf over Providence Falls, she crashes and wipes out.