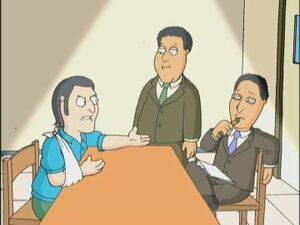 Bryant Charles Gumbel (born September 29, 1948) is an American television journalist, sportscaster, newscaster, television personality and sports anchor . He is best known for his 15 years as co-presenter of NBC's Today. He is the younger brother of veteran sportscaster, Greg Gumbel.
In "If I'm Dyin', I'm Lyin'", he stars with his brother in Gumbel 2 Gumbel Beach Justice, a fictional crime drama that aired on NBC. Peter Griffin becomes very upset when the network cancels the show. He has Chris fake a terminal illness so his wish to have the show put back on the air could be granted.
An episode of Real Sports was mentioned in "The Father, the Son, and the Holy Fonz", in which he did a story on Dennis Rodman.
Community content is available under
CC-BY-SA
unless otherwise noted.